At Skyroam, we are committed to providing as many people with mobile data access as possible.
We do our best to listen to our user's needs and create simple WiFi options that cover an array of different lifestyles. We are proud to announce the launch of our latest data plan — Pay-Per-GB (PPG for short), a true revelation for mobile data users. For the first time on the market, users can now purchase data that never expires, ensuring greater flexibility in usage without ever losing money on unused data! All Pay-Per-GB data is 4G LTE speeds, with no throttle limits, so you never have to worry about reduced internet speeds.
Pay-Per-GB is not a subscription plan. When comparing to other data plans offered by Skyroam, PPG is much like a Daypass in the sense that users can purchase Daypasses—or in this case, GBs—as they go, without a recurring, monthly charge. Put simply—users can now buy however many GBs they need, as they need them. This plan is great for domestic or international travelers taking short trips (1-5 days), or even the remote employee who works away from the house 1 day a week for a change of scenery.
Pay-per-GB's advantage over Daypasses is that data is not under any time constraints, so you can use 500 MB one day and 2 GBs the next without ever losing money on purchased data. With PPG, the data you purchase, is the high-speed data you are sure to use.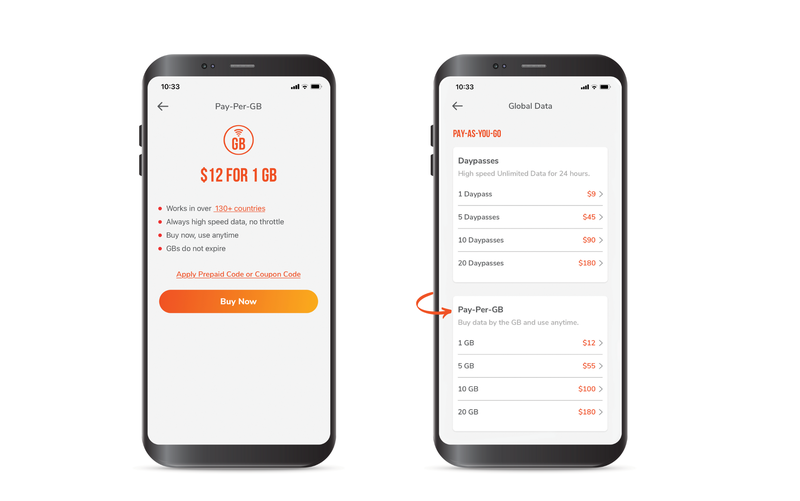 Similar to our GoData Subscription and Unlimited Data Subscription—Skyroam has both global and local versions of Pay-Per-GB:
Global PPG = $12 per GB (available in 5, 10, 20 packs, and price per GB reduces the more you buy)
USA PPG = $8 per GB (available in 5, 10, 20 packs, and price per GB reduces the more you buy)
Because PPG data is not under any time constraints and never expires, Pay-Per-GB data is slightly more expensive than the GoData Subscription. It is still suggested that if you use your hotspot regularly, and enjoy purchasing data by the GB, the GoData subscription will still be your best choice. And if you ever need more data, GB top-ups always receive discounted prices in the GoData Subscription plan.
How to get started on the Pay-Per-GB plan*:
If you're interested in trying Pay-Per-GB, visit the shop page on your Solis WiFi App to get started!
Visit the Shop tab in the Solis WiFi App
Choose Global Data or USA Data
Scroll down to the Pay-as-you-Go section and locate "Pay-Per-GB"
Choose your quantity (1, 5, 10 or 20GBs) & complete purchase
Enjoy high-speed data that never expires!
Note: Users cannot begin using PPG data while on an existing data subscription (GoData Subscription, or Unlimited Data Subscription). You need to unsubscribe before switching to PPG. The Pay-Per-GB wifi option is not yet available on the Skyroam Online portal - a.skyroam.com.