The Acer Connect Enduro M3 5G Mobile Wi-Fi comes with 20 GB of data provided by SIMO. SIMO has revolutionized mobile data access through a virtual, multi-carrier network providing you fast, uninterrupted Internet access in 135 countries, with no SIM card required. Follow the instructions below to claim your SIMO data.
Acer Connect Enduro M3 5G Mobile Wi-Fi posiada 20 GB danych dostarczonych przez SIMO. SIMO zrewolucjonizował mobilny dostęp do danych poprzez wirtualną sieć wielu operatorów, zapewniając szybki, nieprzerwany dostęp do Internetu w 135 krajach, bez konieczności posiadania karty SIM. Postępuj zgodnie z poniższymi instrukcjami, aby odebrać swoje dane SIMO.
1. Power on the Acer Connect Enduro M3 and choose SIMO when asked to select the SIM type in the setup wizard.
Włącz Acer Connect Enduro M3 i wybierz SIMO, gdy zostaniesz poproszony o wybranie typu karty SIM w kreatorze konfiguracji.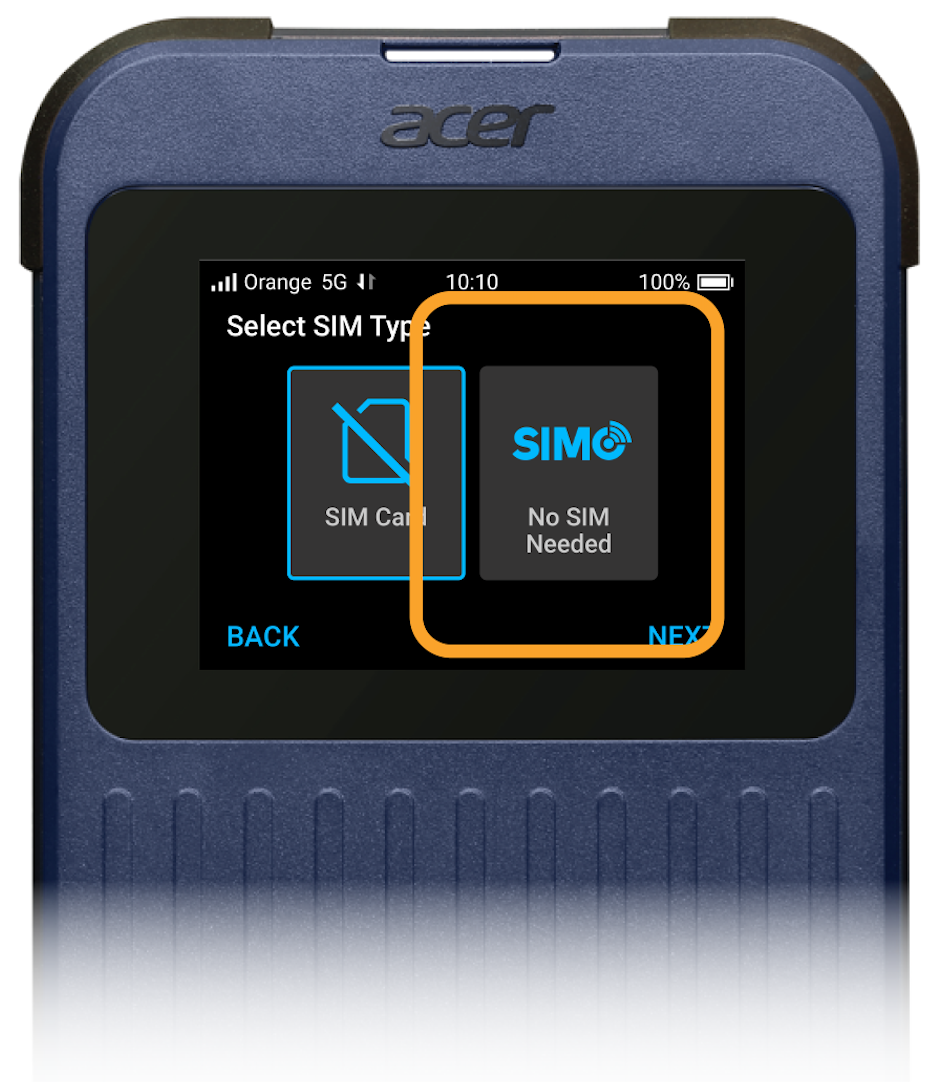 2. Wait for the Acer Connect Enduro M3 to find a signal. On the upper left corner, the carrier's name will appear once signal has been found.
Poczekaj, aż Acer Connect Enduro M3 znajdzie sygnał. W lewym górnym rogu nazwa operatora pojawi się po znalezieniu sygnału.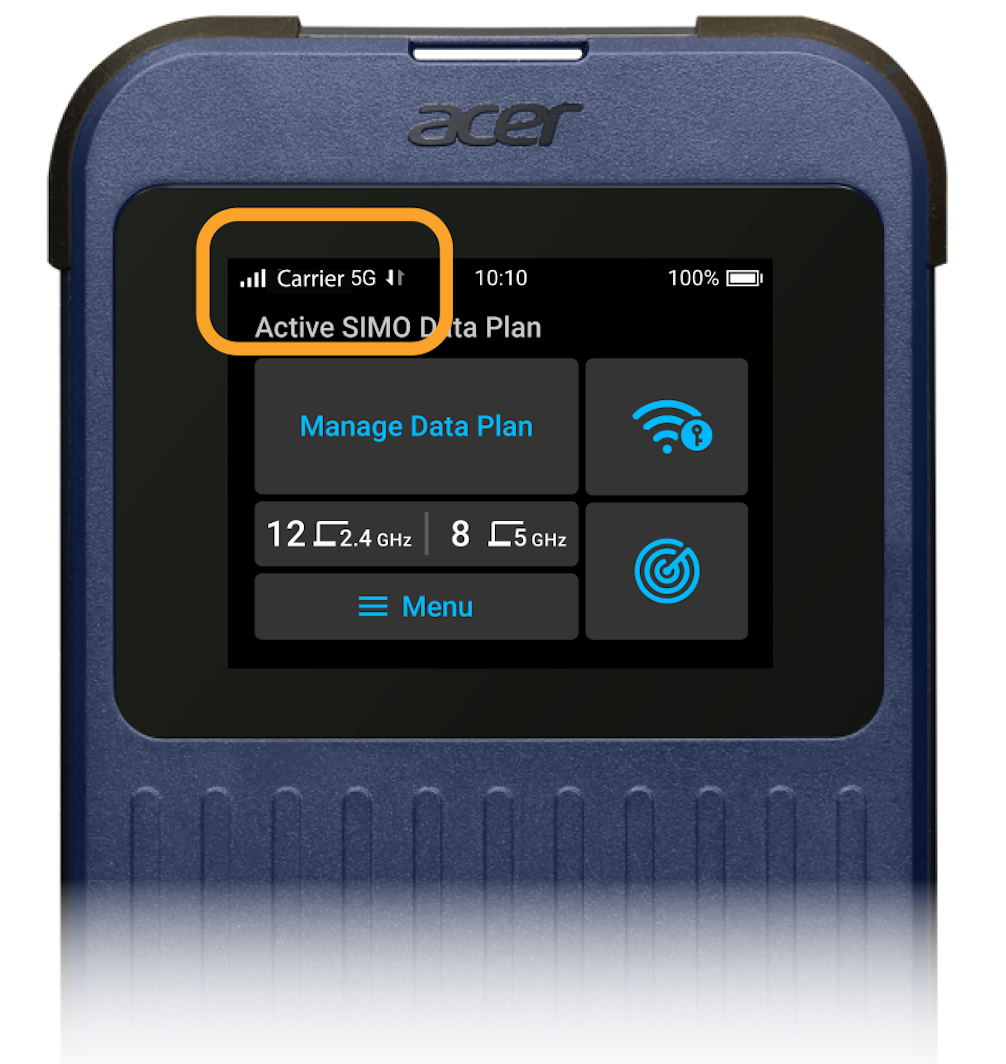 3. Go to Manage Data Plan from your Home Screen.
Przejdź do pozycji Zarządzaj Pakietem Danych z Ekranu Głównego.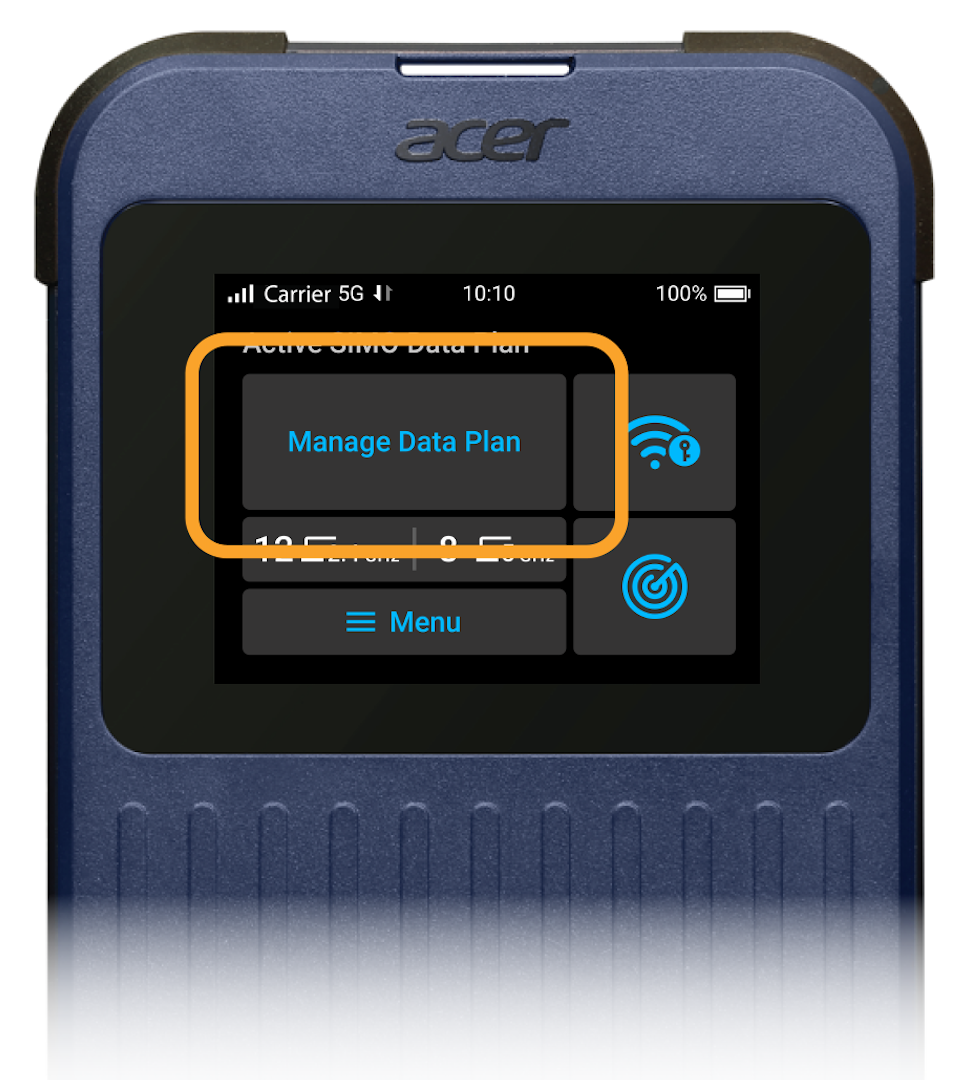 4. Tap the "Show Web QR code".
Wybierz "Pokaż kod QR".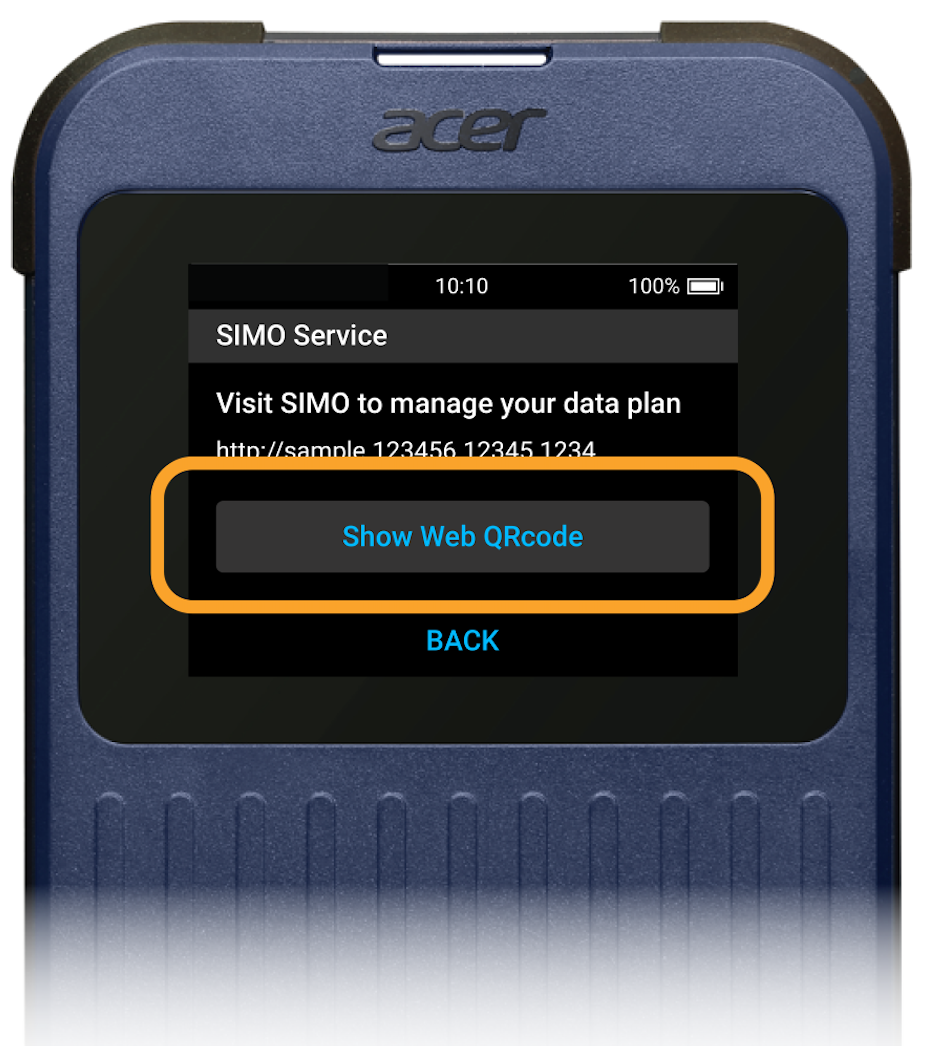 5. Scan the QR code with your smartphone to open the SIMO web portal. Log in or sign up for a SIMO account and your Acer Connect Enduro M3 will be enrolled into your account automatically.
Zeskanuj kod QR smartfonem, aby otworzyć portal internetowy SIMO. Zaloguj się lub zarejestruj konto SIMO, a Twój Acer Connect Enduro M3 zostanie automatycznie przypisany do Twojego konta.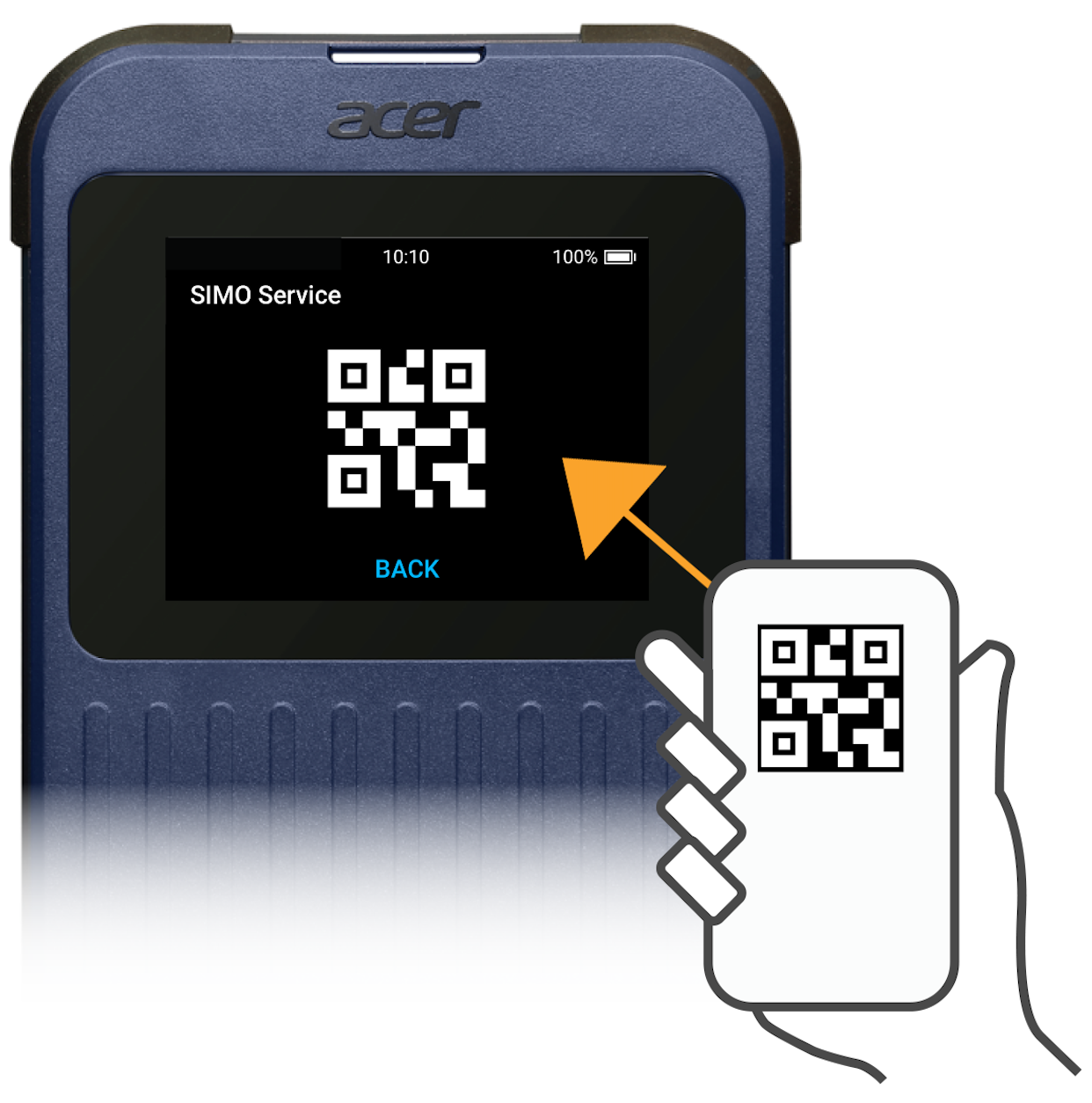 6. Go to the shop page to claim your prepaid data. (Actual shop page may differ from illustration)
Przejdź do strony sklepu, aby odebrać przedpłacone dane. (rzeczywista strona sklepu może różnić się od ilustracji)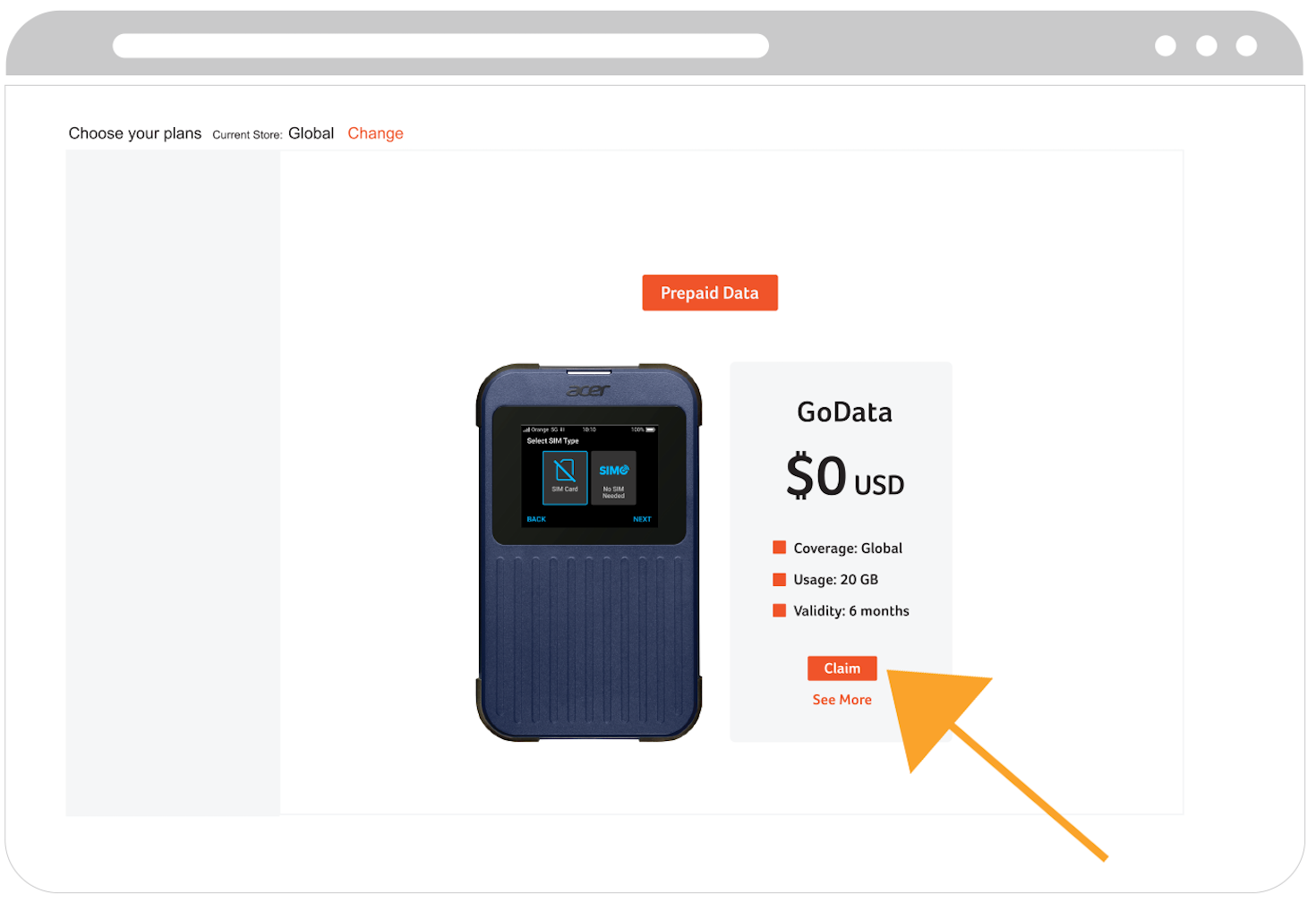 Disclaimers
Acer Connect Enduro M3 5G Mobile Wi-Fi specifications may vary depending on model and/or region. All models subject to availability.
Specyfikacje mobilnego Wi-Fi Acer Connect Enduro M3 5G mogą się różnić w zależności od modelu i/lub regionu.
Device sale subject to Limited Warranty and Terms & Conditions agreement. All offers subject to change without notice or obligation and may not be available at all retail locations. Applicable taxes extra. Not responsible for pricing or other typographical errors.
Sprzedaż urządzeń podlega ograniczonej gwarancji i warunkom umowy. Wszystkie oferty mogą ulec zmianie bez powiadomienia lub zobowiązania i mogą nie być dostępne we wszystkich punktach sprzedaży detalicznej. Obowiązują dodatkowe podatki. Nie ponosimy odpowiedzialności za ceny lub inne błędy typograficzne.
For device support and troubleshooting, please contact your local Acer support team, or go to www.acer.com/support.
Aby uzyskać pomoc dotyczącą urządzenia, skontaktuj się z lokalnym zespołem pomocy technicznej firmy Acer lub odwiedź witrynę www.acer.com/support.